Update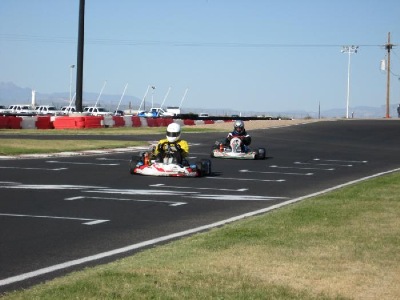 The test went well so stay tuned for more info!

Flash Forward

John and family have moved to Northern Michigan and after a few years establishing their new business will be revitalizing this project this year.

We have a property owner/karter who is willing to host informal races on his land and another person with earth moving equipment available.

Check back soon for more info.

John Matthews

231-264-8707


News Flash


A big thanks to Todd Snider for setting up a test session at Bondurant Superkart School. This facility run by Alan Rudolph is the best hope for kart racing in the east valley since they already have the track in place. We're doing a test this coming Monday 4/20 and if it goes well we'll be running the LO206 class alongside the league racers this summer. There's more information on this at the PKRA forum http://pkra.com/forums/forums/thread-view.asp?tid=1495&posts=14&start=1 and on ekartingnews.com http://www.ekartingnews.com/viewtopic.php?t=81370





Message Board Now Online!


We now have our very own message board on Proboards at http://evkc.proboards.com/index.cgi Join in and let us know what you think.





The Family Club


The East Valley Kart Club is a new club designed with the family in mind. We're just getting started so if you have any ideas or would like to be a part of this exciting new project please give us a call at 480-641-0398.


Affordability


One of our main goals is to make karting affordable again. We'll be running low cost 4-cycle engines and inexpensive tires that will keep costs down and the fun factor high. What we've noticed over the past few years is the cost of engines and tires keeps lots of folks out of karting so we're aiming to fix that. Restrictor plates are available for our junior class drivers so we can keep the speeds down for safety.


Tracks


We'll be running at several tracks in the Phoenix and Tucson areas. Initally we'll just be heading out for practice days but eventually we hope to partner with local racing organizations to put on sanctioned races.


Schedule


Right now we'll be looking for practice days and times when there's a minimum of other traffic on track. We're hoping to run on during the week and on Saturdays for folks who have other commitments. We intend to be a fun, family oriented organization of like minded karters who keep things in perspective. To achieve this goal we'll work with each other to make sure as many of us are involved as possible whenever we go out.


Karts


We're open to any racing kart chassis built within the last 20 years or so. Since we intend to run on official tracks our karts will have to meet minimum safety standards which include bodywork, safety wire, and appropriate engines for the driver's age. Our members are available to go over any kart you might have and make sure it will meet these requirements. Additionally we have a large supply of used parts which can be purchased for a nominal fee. The intent is to have fun and not leave anyone out so as long as it can be made to meet safety tech your kart can be run.


Safety


Appropriate driver protection is mandatory at all times. This includes a full face helmet, neck brace, heavy jacket or kart suit, long pants, gloves, high top shoes, and approved chest protectors for junior drivers. We'll be using current rulebooks from national sanctioning bodies to make sure we meet the requirements for the tracks we're running at. Again, our members are available to go over the requirements with you and make sure you'll be ready for safety inspection when you get to the track.


Contact Us


Send an email to info@evkc.org if you would like to be on our mailing list.